Registration for Advanced English for Academic Purposes. Academic Writing: Structuring Papers for International Publication is now open (AY 2019-2020). Instructor: Leticia Medina.
Course Description: This class will focus on developing essential academic reading, writing, and public speaking skills primarily for graduate and post-graduate students and faculty. Participants will develop reading, writing, and speaking skills needed to be successful in an academic and professional environment. A variety of materials will give the students the opportunity to analyze and comment on written examples, generate their own exercises, improve their own original work, and prepare academic presentations. The class is designed to meet the needs and demands placed on scholars and faculty to read, write, and present formal, academic material.

Prerequisites:
Students who wish to enroll in this intensive, 10-week course must demonstrate the following:
ability to write a research paper in their field of study
high-level critical thinking skills to comprehend, analyze, evaluate, and respond to complex texts
vocabulary knowledge and the ability to pick up context clues to make inferences
understand the main ideas and details of complex academic listening sources
take organized notes on academic lectures
communicate accurately and fluently using effective presentation skills on academic topics and participate in active discussions
Class time: Tuesdays 15:30 pm – 17:45 pm
Office: Academic Writing Center Room 587
Office hours: Tuesday 14:30 pm – 15:30 pm
Thursday 4:00 pm – 5:00 pm or by appointment
Participants will be able to:
Expand academic vocabulary to increase class participation and comprehension of academic texts at the graduate level.
Employ various reading and writing strategies to improve comprehension and expression for academic purposes at the graduate and post-graduate levels.
Evaluate and produce clear, well-structured and complex academic texts individually and through collaboration with classmates.
Create and deliver presentations of academic material.
Use online and campus academic resources and support services.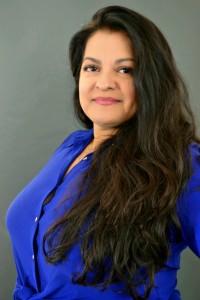 Leticia Medina is a doctoral fellow at the University of Texas at San Antonio (UTSA) in Texas, where she has also been a Lecturer in the Writing Program and an instructor in the English for International Students (EIS) program.
Leticia's teaching experience encompasses instruction in academic writing as well as teaching World and British literature. Most recently, Leticia taught Advanced English for Academic Purposes to international PhD students from a number of foreign countries, including India, Iran, Bangladesh, México, Brazil, China, Russia, and Angola, among others.
Leticia is an enthusiastic proponent of the collaborative classroom, in which students are encouraged to participate in the decision-making process in terms of curricula and assignment schedules. The idea is to create a classroom environment that allows students to claim agency in their own learning process.
Leticia's life-long love of literature has led her to develop a passion for all things having to do with language. Spanish speaking by birth and then Spanish-English bilingual via immigration, Leticia is fluent in both those languages and has now also added French and Italian to the mix. Currently, she is attempting to learn Russian and finds this language utterly beautiful. Having lived and worked in China, Italy, México, and France, Leticia has developed strong coping skills necessary to adapt to different cultures, languages, and ways of life.
Leticia looks forward to the challenges and the joys that the English Language Fellows Program has in store for her and is excited to collaborate with the excellent faculty at NUST MISiS this coming academic year.
Textbooks Consulted:
Swales, John & Christine Feak. (2012). Academic writing for graduate students: Essential tasks and skills, (3rd ed.). Ann Arbor: The University of Michigan. Michigan Series in English for Academic & Professional Purposes (Swales)
ISBN-13: 978-0472034758
ISBN-10: 0472034758
Feak, Christine & John Swales. (2009). Telling a Research Story: Writing a Literature Review (Michigan Series in English for Academic and Professional Purposes). University of Michigan Press/ELT.
ISBN-10: 0472033360
ISBN-13: 978-0472033362
Readings as assigned and posted on Google Drive.
Housekeeping: Google Drive. Each student will have access to Google Drive. Writing and writing logs will be maintained on Google Drive. Peer reviewers and the instructor will have access to these materials. Each student will have access to the course content on Google Drive.