Academic Writing in a Global World Conference-2018: Current Challenges & Future Perspective
2018-10-19 @ 08:00

-

2018-10-20 @ 20:00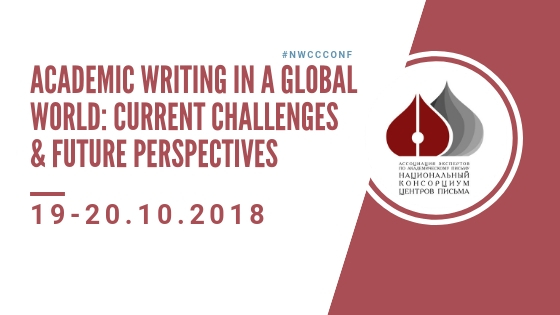 The Association of Academic Writing Experts "National Writing Centres Consortium" (NWCC) is inviting academic writing experts, directors of writing centres, writing tutors, and a wide range of passionate ESAP/ EAP teachers to participate in a conference that will take place on October 19-20, 2018.
The NWCC Conference is a good framework for academic writing specialists to work collaboratively, discuss what they observe in class or their writing centres, exchange opinions and work out solutions, present to their like-minded colleagues the efforts that they found as most effective.
http://conference.nwcc-consortium.ru/
This framework is bound to promote a more systematic approach to writing centre pedagogy and practice, ESAP and EAP teaching and learning, tutor training, knowledge transfer and exchange among writing centres and consider various strategies to writing that can be employed.
The topics of interest are academic writing and the development of writing centres.
The Conference participants are invited to discuss the following QUESTIONS:
How can writing centres promote academic 

literacy

?
What best practices can be communicated to colleagues?
How can your clients' needs be translated into 

research

?
What resources/events can foster a sustainable 

development 

of writing centres?
How can a writing centre engage other stakeholders in the internationalization of education in Russia?
How can writing centres as change agents 

transform 

institutional attitudes to writing in the curricula?
How can the Consortium empower writing centre tutors and teachers of writing?