Academic Writing University Center (NUST MISIS) in cooperation with the English Language Office (ELO) by the U.S. Embassy in Moscow offers free online courses: An Introduction to English Rhetoric in Academic Writing & Beyond;  Public and Social Scholarship in English: Improving Impact Through Effective Presentation Skills, Media Usage, and Collaboration
1. An Introduction to English Rhetoric in Academic Writing & Beyond
What is rhetoric? Perhaps even more important to us in university settings, what role does it play in the many forms of English-language writing and oral communication that we engage in as academics (e.g., journal articles, query letters, book and grant proposals, conference talks/lectures, scholarly debates, etc.)? In this English immersive and highly supportive course, we will explore:
1) rhetoric's role in English-language academic work and beyond,
2) the main elements and functions of argument and rhetorical devices in English-language contexts, and
3) how we, as emerging and established scholars, might identify, anticipate, and engage in effective rhetorical strategies across the various forms of English academic writing and oral communication.
The course starts February 8, Tuesday evenings from 5:00 -7:00 p.m. (Moscow Time) 
Duration: 72 acad. hours Register now
2. Public and Social Scholarship in English: Improving Impact Through Effective Presentation Skills, Media Usage, and Collaboration
The scholarship isn't entirely what it used to be. While many elements of scholarship remain unchanged—i.e., the need to research and write up our findings—other elements of effective scholarship are either new or influx to meet the realities of a digital, highly globalized age. This course, offered entirely in English, provides an opportunity to engage with several increasingly important elements of present-day scholarship: namely, the public and the social. We'll cover a range of topics related to building a public and social scholarly persona in English, including demonstrating effective English-language presentation skills and translating one's work from academia to the broader international public sphere. We'll discuss how to leverage the media—including social media—for research impact, and we'll explore how we might better collaborate with scholars across varying cultures, disciplines, and linguistic backgrounds. Delivered in English with built-in English-language support, this course is designed to serve as a primer on scholarship today—what's different, what's new, what's critical.
The course starts February 10, Thursday evenings from 5:00-7:00 p.m. (Moscow Time) 
Duration: 72 acad. hours Register now
Instructor: Kelly Metz-Matthews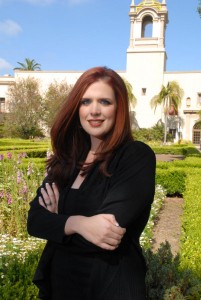 Kelly Metz-Matthews has spent nearly a decade teaching across the disciplines of English Rhetoric and Writing, (T)ESOL, and Teacher Education. In addition to serving as a (virtual) English Language Fellow for NUST MISiS, Kelly coordinates an academic writing program at the University of San Diego and coordinates faculty learning at San Diego City College. Kelly holds a bachelor's degree in English, a master's degree in liberal studies (emphasis: narrative nonfiction writing), a master's degree in English as a second language curriculum and instruction, and a TESL/TEFL certificate. She is currently completing her doctoral dissertation on the ways English functions as a form of gendered symbolic power. Prior to teaching, Kelly worked as a professional writer and editor. She has publications forthcoming on participatory writing in the remote second-language classroom and on preparing teachers to work with emerging bilinguals in the U.S./Mexican borderlands.